British Columbia Eco-Tourism & Eco-Adventures
---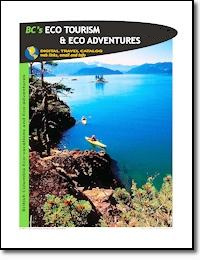 This free catalog focuses on Eco-Tourism and Eco-Adventures in British Columbia, Canada - one of the fastest growing travel sectors.
BC Eco-Tourism & Eco-Adventures Catalog showcases the unique nature-based resorts, vacations and adventures of British Columbia, Canada. Sailing, hiking, expeditions, nature tours, wilderness education, wildlife viewing and world class resorts and destinations.
From Vancouver Island and British Columbia's West Coast to the wilderness of the BC Interior, there is an eco-adventure that's perfectly suited to you; Go bear watching in pristine rainforests, take a wildlife viewing tour or a marine life expedition, paddle the world famous Bowron Lakes Canoe Circuit, stay in luxury tent camp on the oceanfront, lake shore or deep in the forest or soak in a natural hot spring. It's all about nature, all around you! Take a BC Eco-vacation and remember it the rest of your life.

Right click and use the "save target as" command to save to your hard drive.
Left click to open on-line (not recommended for slow Internet connections


(file size: 3.20MB)